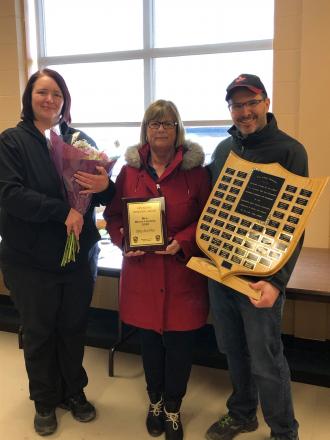 The Restigouche Minor Hockey Association is proud to announce the recipient of the 2020 "Mr./Mrs. Minor Hockey" Ken Adams Memorial Award, which is given annually to an outstanding minor hockey volunteer in the Restigouche area.
The deserving individual has been a fixture in Minor Hockey for many many years.
She has unlocked doors, took many calls, answered questions, sorted through lost and found equipment, helped our volunteers and our players, assisted at every tournament held in the Civic Center, supported our members and went above and beyond her duties without realizing she had such value to us all. 
She has greeted us at the entry way of the rink for decades.  She has put up with us changing ice times, begging for ice times and our relentless and ongoing ice issues! Witnessed many ordeals and lent a listening ear. 
Our members look forward to her smile and her banter-despite the fact that she is a Boston Bruins fan! 
For every bit that she has done over the years-helping us and the game grow behind the scenes in the Restigouche. We are lucky to have her around. 
On behalf of the association and the youth, we want to thank her for her devotion towards minor hockey and congratulate her for this award.
The winner of the Ken Adams Memorial Award Mrs. Minor Hockey 2020, Mrs. Betty Anne Pitre!
Tournament: Arnold Maisey Memorial Tournament