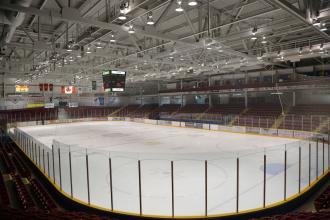 Before going into details describing our position, let us preface with a few quick points:
The council is made up of volunteers trying to make the best decisions to facilitate the development of hockey in our region.
Currently we are stuck between a rock and a hard place: any decisions we make will not please everyone and probably anger some. These decisions are agonizing for us to make.
We are also fully aware that no matter what we decide, minor hockey will probably lose some additional kids.
We should also point out that as of now, things are somewhat in political flux and there is a possibility that we will have to adapt as we learn of any new developments. Giving that registrations are just around the corner, we prefer moving ahead with what we know so that our members can plan and make the best decision for their family. 
Background
From what we understand from our meeting with certain members of the City of Campbellton council, leisure cards are staying put. One important difference is that Dalhousie residents will probably have to pay this year. Tryouts and tournaments are exempt, but we need written confirmation for tournaments.
We are also aware that for many families that live relatively far away from the Dalhousie arena, last year was a very long year with lots of travel. For families with a single child, the fuel expenses were probably more than the cost of the leisure card. Also from a scheduling perspective, using only the Dalhousie ice surface was a constant juggling act due to lack of ice time during the weekdays that not many teams were pleased with. 
Our decision for 2019
Initiation and Novice: as usual will be divided regionally between kids living in the Dalhousie area and kids living in the Campbellton area. 
Recreational teams: if at all feasible, we will try to do the same with Rec level teams. In all likelihood, this is only a possibility at the Atom and Peewee levels because of the numbers.
Competitive teams: will be regionally mixed and all kids requiring leisure cards will have to obtain one as practices and games will be split between locations
Related to the above: we've asked for a concession at our meeting with the City of Campbellton that any Dalhousie based team, from any level, be allowed to play games in Campbellton without the need for leisure cards. We think that given the circumstances this is a small demand. Otherwise all inter-association games would have to be played in Dalhousie.
Our political position and hope for the future
While we want nothing to do with political battles, as the most impacted party but with very little say in the matter, we feel it's appropriate to comment.
We believe that local communities should come to some understanding and contribute funds to help with sports facilities in Campbellton and Dalhousie, and the sooner the better. This extends to all regional sport venues in the area, not just hockey. While we disagree with how Campbellton imposed leisure cards last year and continues to use minor hockey as a political football, we understand their financial predicament. No small community can make an arena financially sustainable on its own, no matter how efficiently the facility is run. The population simply isn't there for them to do it independently. 
Our position is driven by the fact that no matter where you live in the area, investing in sports for kids is important, in the same way we contribute indirectly to education, roads and other public infrastructures for the greater good.
We hope that this matter gets resolved soon in an expedient manner so that we can focus on what we want to do: give kids the best possible experience on the ice.