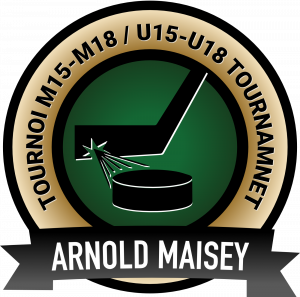 English

General Rules

No protest will be allowed.
If it is found that there is wilful misrepresentation, either in registration or in roster list, the team will be immediately disqualified from the tournament.
It is understood that the Tournament Organizers decline all responsibility concerning injuries, theft, loss of equipment or other damages encountered by tournament participants.
Any players found guilty of consuming alcoholic beverages, the use of drugs or offensive language at the arena could result in suspension by the Tournament Committee.
Hockey Canada Registry official roster must be carried and available to be shown to the Tournament Committee at any time.

Game Rules

Games will follow Hockey NB/Canada rules except for the following changes:

Three (3) periods of 12 minutes stop-time.
In the third period, if there's a difference of five (5) goals or more the time will go to straight-time. Play will go back to straight-time if the difference is reduced to less than five (5) goals by losing team.
Not time-outs.
The ice surface will be flooded between each game.
No decisions made by the referee in charge can be reversed by a member of the organization committee.
The home team has priority regarding the jersey colour selection.
Teams must be ready to start a game up to 15 minutes early.
If a team does not show up for its scheduled game, for any reason (including snowstorms), they will forfeit the game to the other team and a score of 5 to 0 will be given to the game.
After the game, the teams will line up on the blue line for the MVP award for each team. Coach from each team will choose the recipient.

Shootout

If a game is tied at the end of regulation, a three man shoot-out will be held to determine a winner.

A player serving a penalty at the end of the overtime period will not be eligible to participate in the shoot-out.
Goaltender cannot be changed during the shoot-out unless due to injury.
Visitor team shoots first.
If after the first three shooters, the score is still tied, a sudden death shoot-out (one skater each) shall continue until a winner is determined.
All skaters on the players' bench are required to shoot before a player may shoot for a second time.

Finals

Finals will follow the same rules as the Round Robin games except for the following:

One time-out per team will be permitted during a game.
If the score is tied at the end of regulation, the shootout (if needed) will be preceded by a five (5) minutes 3-on-3 sudden-death overtime period.
Français

Règles générales

Aucune protestation ne sera autorisée.
S'il est constaté qu'il y a une fausse déclaration volontaire, que ce soit dans l'inscription ou dans la liste des joueurs, l'équipe sera immédiatement disqualifiée du tournoi.
Il est entendu que les organisateurs du tournoi déclinent toute responsabilité concernant les blessures, le vol, la perte d'équipement ou d'autres dommages rencontrés par les participants au tournoi.
Tout joueur reconnu coupable de consommation de boissons alcoolisées, de consommation de drogues ou de propos injurieux dans l'arène pourrait entraîner une suspension par le comité du tournoi.
La liste officielle du Registre de Hockey Canada doit être portée et disponible au comité du tournoi en tout temps.

Règlements de parties

Les partie suivront les règles de Hockey NB / Canada, à l'exception des changements suivants:

Trois (3) périodes de 12 minutes avec temps-d'arrêt.
En troisième période, s'il y a une différence de cinq (5) buts ou plus, le temps passera au temps sans arrêt. Le chronomètre reviendra au temps-d'arrêt normal si la différence est réduite à moins de cinq (5) buts par l'équipe perdant.
Aucun temps mort (time out) par équipe sera autorisé pendant une partie.
La surface de glace sera inondée entre chaque partie.
Aucune décision prise par l'arbitre en charge ne peut être annulée par un membre du comité d'organisation.
L'équipe à domicile a la priorité en ce qui concerne la sélection des couleurs des chandails.
Les équipes doivent être prêtes à commencer une partie jusqu'à 15 minutes plus tôt.
Si une équipe ne se présente pas à sa partie programmé, pour quelque raison que ce soit (y compris la température), elle perdra la partie à l'autre équipe avec un pointage de 5 à 0.
Après la partie, les équipes s'aligneront sur la ligne bleue pour le prix du joueur le plus utile pour chaque équipe. L'entraîneur de chaque équipe choisira le récipiendaire de chaque prix.

Fusillade

Si une partie est à égalité à la fin de la 3e période, une fusillade de trois joueurs aura lieu pour déterminer un gagnant.

Un joueur en pénalité à la fin de la période de prolongation ne pourra pas participer à la fusillade.
Le gardien de but ne peut pas être changé pendant les tirs de barrage, sauf en cas de blessure.
L'équipe de visiteurs tire en premier.
Si, après les trois premiers tireurs, le score est toujours à égalité, une fusillade mortelle (un patineur chacun) se poursuivra jusqu'à ce qu'un vainqueur soit déterminé.
Tous les patineurs sur le banc des joueurs doivent tirer avant qu'un joueur puisse tirer une deuxième fois.

Finales

Les finales suivront les mêmes règles que les parties régulières du tournoi, sauf ceux-ci:

Un temps mort (time out) par équipe sera autorisé pendant une partie.
Si une partie est à égalité à la fin de la 3e période, la fusillade, si nécessaire, sera précédé par une période de prolongation de cinq (5) minutes 3-contre-3 avec « mort subite » (sudden-death).