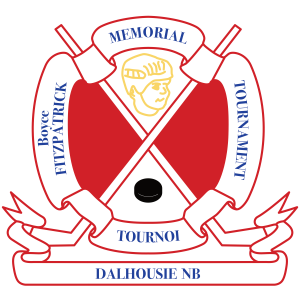 -
Divisions:
Peewee Rec /
Peewee Comp
Tournament Chair:
Jillian Labillois (Contact)
The "Boyce Fitzpatrick Memorial Peewee Tournament", called the tournament hereafter, reserves the right to add, delete or modify articles to the present rules.
Rosters

Hockey Canada Registry official roster must be carried and available to be shown to the Tournament Committee at any time.

Games

Each team must register upstairs in tournament reception upon arrival and must be present at the Inch Arran Arena in Dalhousie at least one (1) hour before scheduled game time.
Each team will be allowed a maximum of three (3) minutes warm-up before the scheduled game time.
Teams will be asked to vacate dressing rooms no later than 30 minutes after completion of their game.

Time-Out

One time-out per game will be permitted.

Ice Surface

Ice surface will be resurfaced after each game.
In case of time shortage (i.e. late game, etc.), the Tournament Committee reserves the right to cancel the flood between games.

Regular Games Schedule

Each team will play at least three (3) games total.
Teams must be ready to start a game up to 15 minutes early.
If two teams wear the same color sweaters, the home team will change sweaters.
Each game will consist of three (3) 12 minute stop time periods.
There will be a two (2) min break between periods.
If there is a five (5) goal or more difference in the third period, the game will be straight time. This will continue until the end of the game, regardless if the goal difference drops below five (5) goals beforehand.
There will be no sudden death in case of a tie during the round robin play.
If a team does not show up for its scheduled game, for any reason (including snowstorms), they will forfeit the game to the other team and a score of 5 to 0 will be given to the game.
If the two teams do not show for their scheduled game, for any reason (including snowstorms), the game will be canceled. No points, no score given.
After the game, the teams will line up on the blue line for the MVP and most sportsmanlike player awards. Coach from each team will choose the recipients of each award

Standings and tie-breaking sequence

The points per game will be distributed as follows during round robin play:

Win: 2 points;
Tie: 1 point;
Loss: 0 point.

In the event that a team has to play one more game than other team in its division during round robin play (due to an uneven number of teams) the following procedure shall be observed for determining their placement in the standings:

Prior to the tournament, a number representing each of their games will be randomly picked and placed in a sealed envelope by tournament officials.
Once round robin play is finished, the envelope will be opened.
The number in the envelope will represent which of their games will not count for determining their position tournament standings.

At the end of round robin play if two or more teams are tied, the tie-breaking sequence outlined in the NBMHC Provincial and Zone Championship Regulations (section 24-25) will be followed.

Elimination Games

Elimination games (finals, semi-finals, etc) will follow the same rules as the Regular Games Schedule (section 6) except if the game is tied at the end of regulation. The following procedure will be followed until a winner is determined:

Teams will remain on the same end and the play shall continue with a five (5) minute sudden victory overtime period.
If a game is tied at the end of overtime, a three man shoot-out will be held to determine a winner.

A player serving a penalty at the end of the overtime period will not be eligible to participate in the shoot-out.
Goaltender cannot be changed during the shoot-out unless due to injury.
Visitor team shoots first.
If after the first three shooters, the score is still tied, a sudden death shoot-out (one skater each) shall continue until a winner is determined.
All skaters on the players' bench are required to shoot before a player may shoot for a second time.

Protest

No protest will be allowed.

Misrepresentation

If it is found that there is wilful misrepresentation, either in registration or in roster list, the team will be immediately disqualified from the tournament.

Damage

It is understood that the Tournament Organisers decline all responsibility concerning injuries, theft, loss of equipment or other damages encountered by tournament participants.

Players

Any players found guilty of consuming alcoholic beverages, the use of drugs or offensive language at the Inch Arran Arena could result in suspension by the Tournament Committee.

Goal Judges

No goal judges during the regular scheduled games. For the finals, goal judges (adults) will be in place.
Le « Tournoi Peewee Boyce Fitzpatrick », ci-après appelé le tournoi, se réserve le droit d'ajouter, de supprimer ou de modifier des articles aux présents règlements. En cas de divergence entre les règles en français et en anglais, les règles en anglais seront utilisées.
Alignement

L'alignement des joueurs et la liste officielle du Registre Hockey Canada doivent être amenés et disponibles pour le Comité du tournoi en tout temps.

Parties

Chaque équipe doit s'inscrire à son arrivée et devra se présenter au l'arena Palais de Glace de Dalhousie au moins une (1) heure avant l'heure prévue de la partie.
Chaque équipe aura droit à un maximum de trois (3) minutes pour le réchauffement avant l'heure prévue du début de la partie.
Les équipes doivent quitter leur chambre d'habillage au plus tard 30 minutes après la fin de leur partie.

Temps d'arrêt

Un temps d'arrêt par partie sera permis.

Glace

La surface glacée sera refaite après chaques parties.
Dans le cas où un retard survient dans le déroulement de l'horaire du tournoi, le Comité du tournoi se réserve le droit d'annuler de refaire la glace après une partie.

Parties de l'horaire régulier

Chaque équipes va jouer au moins trois (3) parties.
Les équipes doivent être prêtes à commencer une partie jusqu'à 15 minutes plus tôt.
Si deux équipes portent des gilets de la même couleur, l'équipe hôtesse changera de gilets.
Chaque partie consiste en trois (3) périodes de 12 minutes chronométré.
Il y aura une pause de deux (2) min entre les périodes.
S'il y a un écart de cinq (5) buts ou plus en troisième période, la partie continuera, mais ne sera plus chronométrée. Ceci sera le cas pour le reste de la partie, même si l'écart est réduit à moins de cinq (5) buts.
Il n'y aura aucune période supplémentaire en cas d'égalité au cours de l'horaire régulier.
Si une équipe ne se présente pas pour sa partie prévue à l'horaire, peu importe les raisons (incluant les tempêtes de neige), la partie sera gagnée par forfait par l'autre équipe qui se verra octroyer une victoire de 5 à 0.
Si les deux équipes ne se présentent pas pour leur partie prévue à l'horaire, peu importe les raisons (incluant les tempêtes de neige), la partie sera annulée. Aucun point et aucun pointage ne seront inscrits pour cette partie.
Après la partie, les équipes s'aligneront sur la ligne bleue pour le prix de joueur le plus utile et le plus gentilhomme. Les entraîneurs de chaque équipe choisiront les receveurs des prix.

Classement et bris d'égalité

Les points par partie seront distribués comme suit durant l'horaire régulier :

Victoire : 2 points;
Égalité : 1 point;
Défaite : 0 point.

Dans la mesure qu'une équipe doit jouer une partie de plus que les autres équipes dans leur division pendant l'horaire régulier (en raison d'un nombre impair d'équipes), la procédure suivante sera suivie pour déterminer leur position dans le classement :

Avant le début du tournoi, un tirage d'une série de chiffres qui représente chacune de leur parties sera pigé et scellé dans une enveloppe.
L'enveloppe sera ouverte une fois l'horaire régulier est terminé.
Le chiffre dans l'enveloppe représentera laquelle de leur partie ne comptera pas pour déterminer leur position dans le classement.

Dans l'éventualité d'une égalité dans le classement après l'horaire régulier les règlements du CHMNB pour les tournois zones et les championnats provinciaux (section 24 et 25) seront suivis.

Parties éliminatoires

Les parties éliminatoires (finales, demi-finales, etc.) suivront les mêmes règles les parties de l'horaire régulier (section 6) sauf si la partie est à égalité à la fin du temps réglementaire. La procédure suivante sera suivie jusqu'à ce qu'un gagnant soit déterminé :

Les équipes resteront du même côté de la glace et le jeu se poursuivra avec une période de prolongation de cinq (5) minutes.
Si une partie est encore en égalité à la fin de la période de prolongation, une fusillade à trois hommes sera organisée pour déterminer le vainqueur.

Un joueur qui à une pénalité à la fin de la période de prolongation ne sera pas éligible pour participer à la fusillade.
Le gardien de but ne peut pas changés pendant la fusillade, sauf en cas de blessure.
L'équipe de visiteurs tire en premier.
Si, après les trois premiers tireurs, le score est toujours à égalité, une fusillade avec la mort subite (un patineur chacun) doit se poursuivre jusqu'à ce qu'un vainqueur soit déterminé.
Tous les patineurs d'une équipe sur le banc des joueurs doivent participer avant qu'un joueur puisse tirer une seconde fois.

Protestation

Aucune protestation ne sera permise.

Fausse représentation

Si nous découvrons qu'il y a eu délibérément une fausse représentation dans l'inscription ou dans l'alignement des joueurs, l'équipe en faute sera disqualifiée immédiatement du tournoi.

Dommages

Il est entendu que les organisateurs du tournoi ne sont pas responsables pour les blessures, vols, pertes d'équipement ou autres dommages encourus par les participants du tournoi.

Joueurs

Un joueur trouvé coupable d'avoir consommé des boissons alcoolisées, d'avoir fait usage de drogue ou de langage abusif sur les lieux du Palais de Glace Inch Arran pourrait être suspendu par le Comité organisateur du tournoi.

Juges de buts

Il n'y aura aucun juge de buts durant les parties de l'horaire régulier. Pour les finales, des juges de buts (adultes) seront sur place.