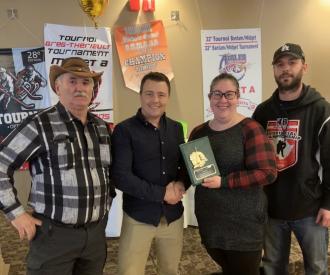 Award presented by Nathalie Cyr, in memory of Claire et Marcel Bosser
Read more

about Volunteer of the year 2018-19: Serge Fontaine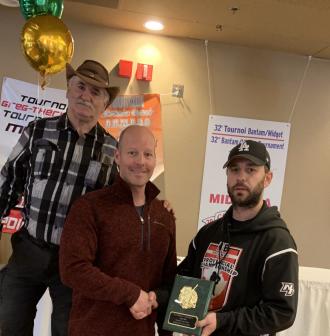 Sponsored by the Doucet Family in memory of Alex Doucet
Deciding the coach of year award is always challenging, and this year was no different. The person we chose showed continued commitment to player development, was level headed and made each practice unique and fun. Despite challenges along the way, the committee was impressed by how each practice was planned and executed by him and his coaching staff. This lead to strong individual player development that will give these young players a solid hockey footing in years to come.
Read more

about 2018-19 coach of the year: Todd Kennedy
Congratulations to our 2019 ticket draw winners:
Heat Pump LG Art Cool Prestige: Maggie Peters
Montreal Canadian Tickets: Chrishanne Simonson
Maritime Travel Gift Card: Jean-Guy Bujold
Pneu Landry Tire Shop Gift Card: Cindy Bérubé
Read more

about Congratulations to our 2019 ticket draw winners!
Clothing orders can be picked up at the Dalhousie rink today & Thursday from 5–6:30pm and Sat from 2:30–4pm.
Read more

about Clothing Orders Pick-up times
You can purchase official RNMHA hoodies, t-shirts, coats, tracksuits, hats, bags and more. Orders are payable in full when ordering and by cash only.
You can place your order the following times:
November 23 @ Campbellton Civic Centre Board Room from 6pm–8pm
November 24 @ Dalhousie Inch Arran Ice Palace from 9am–4pm
November 25 @ Dalhousie Inch Arran Ice Palace from 9am–4pm